A very late wrap-up but the holiday season was BUSY. I had a really wonderful Christmas, after being so sick last year I needed this one to go somewhat well and thankfully it did. It was 17 days of catching up with all the things, cleaning my house, meeting friends and family, naps. There was also a lot of wine. 😀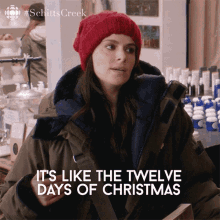 I didn't have the best reading month in terms of books I loved but I finished up/caught up on some books I'd been reading a while or series I'd been in the middle of. I was super poor at reviewing on Goodreads though so I'm kind of winging this post. I'll probably use what I put here as reviews there.
The Final Empire (The Mistborn Saga #1) by Brandon Sanderson – 5⭐
Wonderful start to this series, Brandon Sanderson is a wonderful world builder and I love his writing but I do find it super dense so it often takes me a little longer to read his books which is totally fine but sometimes can be frustrating. That said, I loved this book and it's amazing cast of characters and will be reading at least book 2 in the first quarter of 2023.
Merry Inkmas by Talia Hibbert – 4⭐
I adore Talia Hibbert and I don't think I've read a book of hers I didn't like. This was really cute and just such a lovely Christmas read. Also a hero with tattoos? I mean you can't go wrong! 😀
Storm Echo (Psy-Changeling Trinity #6) by Nalini Singh -5⭐
Reread number… 4.
Since August.
I think it's safe to say this was one of my favourite books of 2022. Tattoos again. Tattoos and Ocelots.
A Merry Little Meet Cute by Julie Murphy & Sierra Simone – 4.5⭐
OMG! This was unexpectedly spicy. Spicy and really empowering and positive.
Body positivity and sex work positivity. I really hope there is more from these characters. I honestly had such a good time. It doesn't get the full 5 stars because I felt like the end was very rushed and could have been executed better. I don't know if it's just me but I find that to be a common problem with books written by 2 authors!
Bill Bailey's Remarkable Guide to Happiness by Bill Bailey – 5⭐
A list of things that make the incomparable Billy Bailey happy. Some I 100% agreed with, such as, letter writing, birdsong and swearing. Others, such as speaking another language and equations not so much. I appreciate how they can make you happy but unfortunately I'm not very good at either! 😀
Resting Scrooge Face by Meghan Quinn – 3⭐
Cute but for a second chance romance it was all a bit insta! Might be because it was a novella? Perfect for a speedy Christmas read.
Mad Man (Necessary Evils #5) by Onley James – 4⭐
Catching up on this wild mess. This was my favourite in the series so far. I think it's because I was anticipating Avi and Felix's story and they are equally matched when it comes to crazytown. They were super cute in a psychopathic kind of way!
Empire of Pain: The Secret History of the Sackler Dynasty by Patrick Radden Keefe – 5⭐
This family is utter trash! They should all be poor and in prison.
I do plan to review this one properly but I think I want to read Dopesick by Beth Macy and then review both.
These people respect nothing but money and none of them give a shit about the people their legacy has destroyed. The absolute audacity of Madeleine Sackler to film a documentary in a prison where there are 100% inmates there because of her family!! It's maddening!
Enticed from the Deep (Venora Mates #4) by Octavia Kore – 3⭐
Catching up on another series. I like this series and hope it continues. This wasn't my favourite of the series, but it's not because of the characters, I loved them, it was the plot. I could guess the bad guys from another planet and just felt annoyed with the decisions they were all making.
Nanny for the Santas by Cassie Cole – 2⭐
Hated it to be honest! 😀
It was poorly written and not a proper reverse harem in my opinion. This was my Christmas Day and Stephen's Day read and it really wasn't good enough for the occasion. More research or a reread needed in the future I think!
Smoke and Steel (Wild West MC #2) by Kristen Ashley – 5⭐
I'd been saving this and started it right after the disaster of Nanny for the Santas. Thank goodness I had it!
I really didn't like book 1 in this series and was very hesitant to read this but a fellow KA fan told me I'd enjoy it and she was not wrong. It's hard to forgive the boys in Resurrection the sins of their past but I'd prefer them to Aces any day of the week. Ugh, I still hate Buck!
I also really loved Hellen. She is my kind of badass.
Sherlock Holmes & the Christmas Demon (James Lovegrove's Sherlock Holmes #4) by James Lovegrove – 3.5⭐
This was fun and I want to read the rest of them. A nice way to finish up December. They aren't as good as Arthur Conan Doyle's Sherlock but they feel familiar and cosy. It's nice to have something to dip into when I'm in the mood for some new Sherlock Holmes adventures!